FlickrFire lets you easily upload the image you're currently working on to Flickr, without ever leaving Fireworks. You can download it from here:
http://johndunning.c...bout/FlickrFire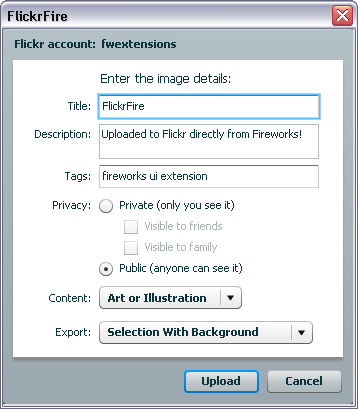 The first time you run the command, it will open a browser page to Flickr where you can give FlickrFire authorization to upload images to your account. After doing that, come back to Fireworks and click the "I've Authorized FlickrFire" button. The token that Flickr sends back will be stored in the Fireworks preferences, so you won't need to re-authorize the next time you want to use FlickrFire. If you ever want to revoke authorization, just go to the App's You're Using page on Flickr and remove the permissions from FlickrFire.
Once authorization is complete, the upload window will appear. Here you can enter a title for the image (it defaults to the Fireworks filename), a description, and tags. You can also change the privacy settings and the type of content in the image. The tags, privacy settings and content type are remembered across invocations of the command, so if you want the images to always be visible only to friends, for instance, the option will remain checked.
When you're ready, just click the Upload button. Another dialog will open with a progress bar, and will remain open until your image is exported and posted to Flickr. Once your image is live, a dialog will display the URL to its page on Flickr. This URL is also automatically copied to the clipboard, so you can easily paste it into a browser to view the page.