TweetFire lets you easily tweet the image you're currently working on, without ever leaving Fireworks. The command posts a flattened copy of your image to TwitPic and attaches its URL to your tweet. You can download it here:
http://johndunning.c...about/TweetFire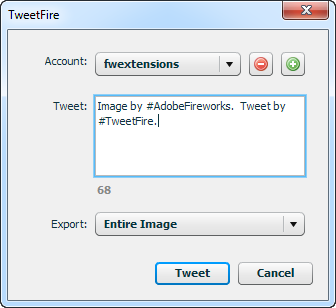 After opening the TweetFire dialog for the first time, you'll need to enter your Twitter username and password. These credentials are saved across sessions in the Fireworks preferences file.
Then tab to the Tweet field and start typing. The number of remaining characters counts down from 110, rather than the typical 140, to leave some room for TwitPic URLs, which are about 25 characters long. Even if you go beyond 110 characters, though, whatever you enter will be sent as the tweet. The text isn't clipped.
When you're ready, just click the Tweet button. Another dialog will open with a progress bar, and will remain open until your image is exported and posted to TwitPic. Once your tweet is live, a dialog will display the URL to your image. This URL is also automatically copied to the clipboard, so you can easily paste it into a browser to view the page.