QuickFire can be downloaded from here:
http://johndunning.c...about/QuickFire
A short screencast there shows how it works.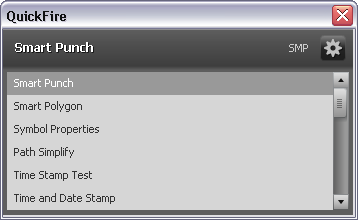 QuickFire is essentially Quicksilver for Fireworks. While it's easy to add a keyboard shortcut for your most-used commands, accessing the others still requires clicking through the Commands menu. QuickFire makes accessing these commands much easier: just launch QuickFire (with a keyboard shortcut, of course), start typing part of the command's name, then hit enter to run the matched command. Quick 'n' easy.
Besides items in the Commands menu, QuickFire also lets you quickly access:
Command panels: typing a panel name like "Pages" will open that panel and bring it to the front if it's in a group.


Symbols: any symbol files installed in the Common Library folder will be available for insertion. Typing the name of a symbol like "HScrollBar" and pressing enter is equivalent to dragging that symbol into your document from the Common Library. Since some symbol names are repeated in multiple folders (e.g., Mac and WinXP), the name of the folder in which the symbol is stored follows the symbol's name. (Note that once you've added a symbol to a document, you can't add a different symbol with the same name from a different folder. There's no way for QuickFire to tell the difference, unfortunately.)


Auto shapes: auto shapes that are available in the Shapes panel (like "Ruler") and those in the Toolbox (like "Rounded Rectangle") can be inserted into the middle of the document by typing their name.


Built-in menu commands: parts of the Modify, Text and Filters menus are available in the command list. For example, the Text > Align > Right menu command is available as "Text Align Right", so typing "tar" will match that command.
Hope you find it useful!